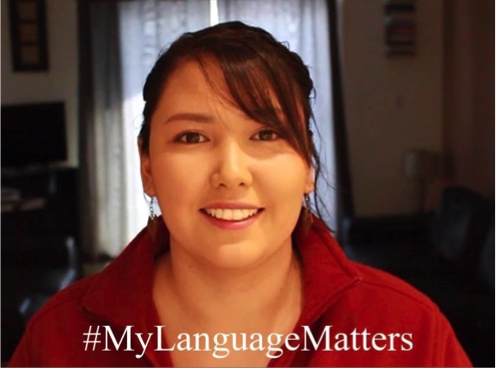 We are celebrating NWT Indigenous Languages Month during the month of March. To help support NWT Indigenous languages, we launched a social media campaign called #MyLanguageMatters. We hope to engage and challenge people across the NWT to speak their Indigenous language. You can take part by uploading your video on social media.
Here's how it works:
Introduce yourself using your Indigenous language.
Explain why your language matters to you.
Challenge others to upload their video using their language.
Use the #MyLanguageMatters hashtag for a chance to win great weekly prizes!
There are eleven official languages in the NWT, including nine Indigenous languages —Gwich'in, Inuktitut, Inuvialuktun, Inuinnaqtun, North Slavey, South Slavey, Tłı̨chǫ, Chipewyan and Cree. The health of these languages varies greatly, but most are endangered.
Does your language matter to you? Submit your video to danita@nwtliteracy.ca or post it directly to Facebook or Twitter using the #MyLanguageMatters hashtag. If you want to learn more or have questions about the #MyLanguageMatters campaign, contact me at 867-873-9262 or go to our Facebook page.
— Danita Frost-Arey